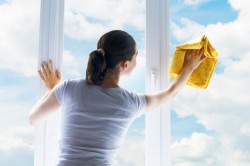 Now that the gorgeous spring weather is finally here it's time to think about addressing some of those annual interior and exterior spring cleaning tasks.
Wash Your Windows
The one thing that it is easy to neglect (or purposely avoid!) is cleaning your windows. After all the recent wet weather they really are going to need it. If ladders are not your thing spend the extra few dollars to call in a professional window washing company to do those tricky second storey windows. There's nothing like the sun shining through sparkling windows to lift your spirits!
Power Wash the Exterior
Power washing is one of most efficient and cost-effective ways to clean off the dirt that's built up on your home's exterior after being exposed to the elements over the messy winter and spring months. Most surfaces from stucco, vinyl siding, wood and brick, to patios, porches and walkways can benefit from a good power washing and overall, give your home a quick facelift!
If you don't have time, hire a pro to discuss your specific cleaning needs. For an FREE estimate on having your home interior professionally cleaned please give us a call at 403-801-7236 or email info@deborahstouch.com.